MASTER-GROUP LLC has been supplying hand tools for distributors since 2006. We sell goods for both Ukrainian and foreign companies. We cooperate with medium and large retail chains and online stores specializing in the sale of tools, equipment and sports goods.
MASTER-GROUP LLC is:
● 14 years of experience in the market of tools and consumables;
● sale of goods from 7 largest suppliers of Ukraine and other countries of Eastern Europe;
● more than 30 partners from various fields of production and retail;
● partnership with major retailers and factories, such as Antonov State Company, KrAZ, Epicentr, DTEK, Rozetka, Pіvdenno-Zahіdna Zaliznytsia State Company, Siemens, etc.;
● export of goods to companies operating in Estonia, Czech Republic, Israel, USA, Poland.
MASTER-GROUP LLC works only with official suppliers of goods. Therefore, we guarantee high quality of delivered products. We practice an individual approach to each client, thanks to which we can prepare the best conditions for cooperation. MASTER-GROUP LLC works with strict observance of delivery terms and promptly responds to any complaints of customers. Our specialists will solve any problem that has arisen in our partners as soon as possible.
On our website you can get acquainted with all kinds of products supplied by our company. We offer our customers products from different price categories, for any needs. We are open to cooperation and are ready to choose the best options for your business. MASTER-GROUP LLC is ready for compromises to develop a scheme of cooperation that will suit all parties. Contact our experts and we will provide answers to any questions.
From steelworkers to entrepreneurs: how the guys from Alchevsk created the company and succeeded in the conditions of crisis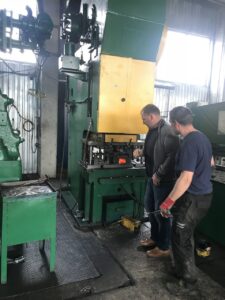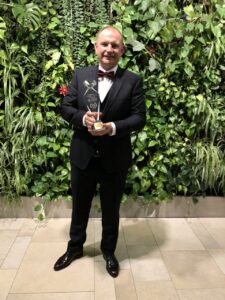 Maksym Sydorenko, founder of the company Master Group dreamed of his business since the childhood. But the dreams didn't came true in a while. In the provincial industrial city, it was customary to dream of a steelworker career like many of us and it took a lot of time to find his vocation.  In 1995, when the last school bell rang, Maksym began thinking about higher
education. The choice of where to go after school, was not rich, especially in Alchevsk, and Maksym went to study at the Iron and Steel Institute. It was the heavy 90s, when it was necessary to solve quickly, and the question was not about who you want to be, and where you can earn at least a little to help the family.
Steelworker not by vocation
At first, the new specialty inspired Maksym. Teachers advised to deepen into the profession and drew a great future in this field – according to all data, Maksym had to succeed in this field. But gradually he realized that steel industry didn`t attract him at all, and it is certainly not his way to work all his life at the plant. "I graduated from the Institute with an excellent mark and even
got a diploma with honors. But all this was out of a sense of responsibility, because I already felt that my calling is not in this", - Maksym says.
"I was just doing what I had to do," he admits, "because it was a pity to abandon what I had started. But I realized that I won`t be a steelworker. Moreover, I already knew that life in industrial and frankly poor Alchevsk is not for me. I have always dreamed of living in the capital, where there is development and opportunities".
For some time Maksym stayed "in free flight", working in the specialty, but without inspiration. He changed more than one place of work in search of profitable and interesting business before realizing - menial job no longer suits. Moreover, by that time Maksym had already married, and the young family had to be mainteined.
Then there was the idea to move to Kyiv - to realize a long dream. He earned capital for moving himself - since early students saved money for this idea, but everything hesitated to implement it. But now not only he needed to move; it was necessary for a more promising and peaceful future of his family. So at the beginning of the zeros the family moved to Kyiv. The house was more expensive than they thought. To live in Kyiv, it was not enough to be just a steelworker at the plant — it was necessary to spin and earn.
The first place of work in the capital was trading house of Ukraine-Kazakhstan TH JSC. It was very far from Maksym`s specialty — steel industry, so we had to learn everything from scratch. But it was a good experience, and Maksym quickly learned new things. Maksym gained an excellent reputation in the Company, and soon climbed the career ladder to the position of director. Here
Maksym gained experience of international trade and got a number of useful contacts.
Start of his own business
Six years after moving and confident career growth, Maksym thought about opening his own company. He called the company Master Group. It was necessary to start practically from scratch, having only knowledge and experience gained in Ukraine-Kazakhstan TH JSC under belt. The very first office for the sale of tools at the young company was in the usual garage, which
the young entrepreneur converted to suit his needs.
"I remember that not one legendary startup, even developed into a concern, started with a garage," Maksym smiles. "It is important not where you trade, but what and how. Values, the right priorities, reputation and, of course, self-confidence are important. These are healthy ambitions that lead to success."
After opening the company, Maksym and his team, consisting of several close friends, began active distribution to retail chains. Then retail trade in modern formats was only emerging. "There were only three such networks, and we tried to work with them all. It was a good, albeit very busy time, and I remember it as a constant mood of drive." This feeling of "working to the fullest", enjoying the result has become one of the values of the company. Developing his company, the young entrepreneur at the same time became a representative of the Dnipropertovsk plant for the production of garden and household tools. This cooperation has increased the company`s sales and trade turnover.
"Our partners had a good name and an extensive customer audience throughout Ukraine and abroad. Taking the goods for sale, we immediately saw how our level began to rise. We still continue to cooperate with them, as well as with other major suppliers in Ukraine and abroad."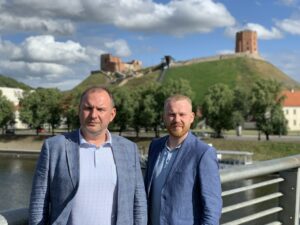 Make-or-break 2008
Things went uphill until in 2008 Master Group faced the first serious test — the financial crisis, which then shaken the whole economy of Ukraine. Many small businesses have collapsed. Maksym and his company was saved by the participation of his brother Denys, who joined already with his capital and experience in business. According to Maksym, Denys brought a new vision and
reworked the structure of the company, based on financial analysis and his own knowledge. This made it possible to enter the western markets. Master Group expanded to supply hand tools to CIS countries, and later partners in Europe and Asia appeared.
"It was my family who helped me to survive in the conditions of the "turbulent sea", when our ship stormed" Maksym said. "Denys brought a second breath to the company when my forces, frankly speaking, were running out. My wife and children were motivators, thanks to them I kept looking forward when I wanted to leave everything and close the company. If I could still afford to go down being alone, now I had no such right. I was sure we`d get out. And we succeeded".
It turned out not only to get out of the "pit", but also to come to decent levels of sales. New forces and experience of survival in the crisis environment strengthened the position of Master Group in the market and made one of the leading suppliers of hand tools in the country. At the moment, the company is in the stage of continuous growth for several years. Cooperation with market
leaders, confident and stable pricing policy, established own production of tools and purchases from the best manufacturers is what Master Group can boast today.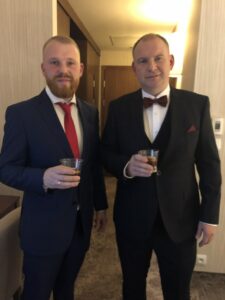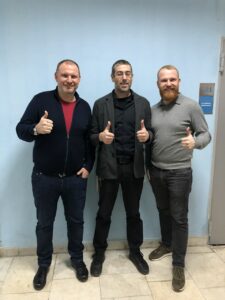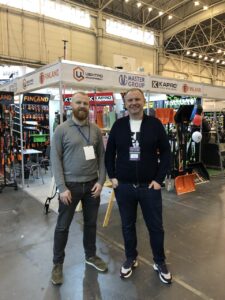 The buyer can be sure that he acquires a high-quality and reliable tool made with love and understanding of the needs of the buyer. Master Group knows what the trust of the buyer is worth and does everything possible to justify it.